Taiwan business mission eyes more economic activities in Subic Bay Freeport
Mar 16, 2023
SUBIC BAY FREEPORT – Top honchos of the Taiwanese business community are eyeing new investments inside this premier Freeport during their visit here recently thru the Philippine Trade and Investment Center (PTIC) of Taipei. 
 
According to Subic Bay Metropolitan Authority (SBMA) Senior Deputy Administrator for Business and Investment Renato Lee III, the Taiwanese businessmen came to the Freeport for the Integrated Investment Campaign: New Southbound PH Taiwan Delegation to the Philippines. 
 
Lee said that the business mission here is an offshoot of the Integrated Investment Promotion Campaign in Taiwan back in October 2022 where the SBMA participated. 
 
The group led by Terry Lin, Investment Officer of PTIC-Taipei was welcomed by Lee and other SBMA officials at the Formosa Hall of the Subic Bay Development and Management Corp. (SBDMC) admin building where the delegation was given a presentation of the Subic Bay Freeport business climate as well as advantages of investing here.

Manager of the Business and Investment Department (BID) for Manufacturing and Maritime Karen Magno facilitated the presentation for the Taiwanese delegation, providing insights on the many perks that this premier Freeport has to offer.

Magno cited that there are two Taiwanese industrial parks situated here, the Subic Bay Gateway Park and the Tipo Hightech Eco Park (THEP). She said that both industrial areas are conducive for businesses that intend to make it happen in the Philippines because both are good for businesses dealing in manufacturing various items such as packaging materials and appliances.

Also present in the event was Subic Taiwan Chamber of Commerce President Andy Liu who gave his welcome message to the delegation, sharing that the number of Taiwanese investments in the Freeport is among the biggest in terms of nationality.

Delegates representing ten Taiwanese companies came to the Subic Bay Freeport Zone to conduct an ocular inspection of the area. The group was welcomed by fellow Taiwanese businessmen who located here including SBDMC Inc. President Willy Wang, Wistron Infocomm Philippines Corp. Director Wallice Wang, Subic Technic Inc. EVP Louis Kuo, and Limech Manufacturing and Trading Corp. President Sammy Chou.

Meanwhile, Taiwan investors here also boasted of a diligent and capable workforce who are proficient in English, logistical advantages for having an airport and a seaport, tax incentives due to being an economic zone, capable utilities, electricity and telecommunications.

In his closing remarks, Deputy Administrator for Business Group Atty. John Aquino said that Subic Bay Freeport is not just an industrial and manufacturing area but Freeport also an ideal destination of tourism amenities that will provide rest and relaxation to Taiwanese businessmen who plan to live here with their family.

He also added that Subic Freeport is the number one tourist destination of the region since there
are numerous beach resorts, theme parks, and other tourism-related businesses here.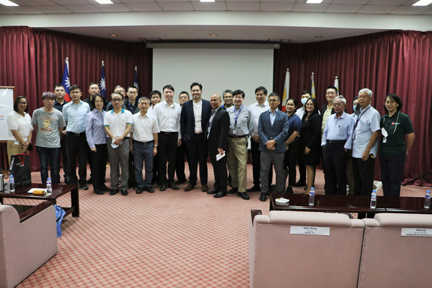 SBMA Senior Deputy Administrator for Business and Investment Renato Lee III and officials of companies in the Subic Bay Gareway Park pose for a souvenir photo with Investment Officer of PTIC-Taipei Terry Lin and the top honchos of the Taiwan business community who visited Subic Bay Freeport for the Integrated Investment Campaign.