Charity home gets SBMA's recyclable program proceeds
Jan 18, 2023
SUBIC BAY FREEPORT – The Subic Bay Metropolitan Authority (SBMA), thru its Ecology Department, has chosen the Missionaries of Charity in Olongapo City to receive the proceeds from the recently concluded 11 th  Recyclables Collection Event (RCE) early last month.
 
According to SBMA Chairman and Administrator Rolen C. Paulino, 32 wards and 15 house parents from the Missionaries of Charity in Olongapo City would benefit from the proceeds amounting to P35,000 from the various forms of waste materials collected during the said event.
 
"With the collected wastes sold, we earned P35,000 and bought items such as shampoo, lotion, soap, towel, adult diapers, baby powder, and other household items such as alcohol, dishwashing liquid, detergent, toilet cleaner and fabric conditioner. We have turned over these items to the nuns of the Missionary of Charity to help provide much needed essentials for the beneficiaries," he said.

Aside from the aforementioned items, the beneficiaries were also given milk, biscuits, candies, chips, juice, hotdogs, and chickens. "And to make their Christmas brighter, we also bought lechon for their Christmas party," he added.

The 11th RCE is an annual event of the agency wherein companies inside the Subic Bay Freeport Zone turn over their wastes, including hazardous and electronic waste, which will be sold. The money earned from the collected wastes are then given to a local beneficiary.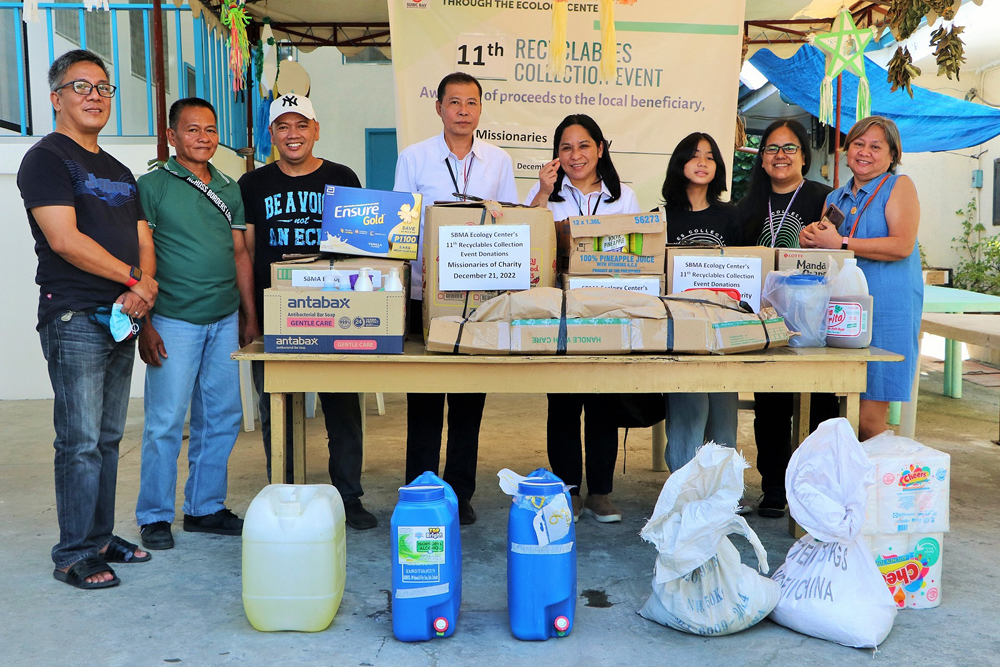 Subic Bay Metropolitan Authority (SBMA) Ecology Center division chief Rosselle Abuyo (center) leads the turnover of proceeds from the 11 th  Recyclable Collection Event (RCE) to its chosen beneficiary, the Missionaries of Charity house in Olongapo City.