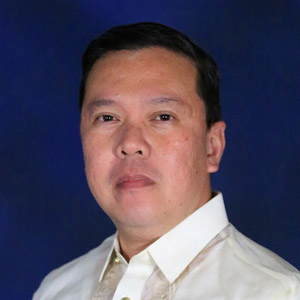 Ronnie R. Yambao
Senior Deputy Administrator for Operations
Email:
About Us
The Operations Group serves as the lead navigator in piloting the Subic Bay Freeport into a highly competitive aviation and maritime hub, spearheading the Authority's objective of being a premier Freeport in Asia.

The Senior Deputy Administrator heads the Operations Group comprised of the Airport, Seaport, and Trade Facilitation and Compliance Departments, and provides principal assistance to the Chairman and Administrator on matters concerning aviation, maritime operations, and trade facilitation.
MISSION
The Office of the Senior Deputy Administrator for Operations (OSDAO) is committed to providing quality service, administration, and management of port operations through continuous improvement of processes, and aims to be both gender and environmentally responsive while providing satisfactory and quality service in a safe and healthy environment.
VISION
A truly multi-modal logistics hub, the only Freeport Zone with a transport network for land, sea, air, and railway in the country that will create new, sustainable, and competitive value for the country's transport network and the Southeast Asian Region
OUR STRATEGIC GOAL - SBMA PORTS' QUANTUM LEAP
It is an abrupt improvement or a big move forward to attain the Agency vision, mission, and aspirations in the areas of quality customer service, revenue potential, role in the global and local supply chain, transport network, cruise tourism, maritime and aviation highway, national government initiatives (Philippines Development Plan (PDP-MTDP), and port safety and security
OUR FUNCTIONS
Establish an efficient and effective system of administration and general management of the office and departments under the Operations Group
Manage, supervise, implement, monitor, and evaluate policies, rules, and regulations related to aviation and maritime operations, and trade facilitation
Recommend to the Chairman and the Board of Directors policies, projects, and proposals in pursuit of the corporate mandate, mission, vision, objectives and goals concerning the Operations Group
Generate business and job opportunities by providing excellent port operations services while maintaining the highest level of ethical standards in customer relations at all times